Which is better for your family, SimpliSafe or cove? When you look around for a family safety system, you want to make sure you find a system that suits your specific needs without worrying about updating to a new system in a few years.
You want to ensure that the system you are interested in is used with other brands of equipment, because the scalability of some systems may be limited. You also need to ensure that the monitoring services provided to the system meet your budget. Today, we'll learn about SimpliSafe and Cove smart by looking at their add-on devices, monitoring services, applications, and more.
SimpliSafe and Cove have a lot in common. The two DIY home safety systems have similar pricing, similar smart home integration and good customer service scores.
We have to give SimpliSafe a little lead because it provides a smart lock and a doorbell camera. SimpliSafe has also existed for a much longer time than cove, making it easier for people to recognize the name on the sign in your yard. But to be honest, SimpliSafe and Cove are good choices.
| | | |
| --- | --- | --- |
| Product | Cove Security | Simplisafe |
| Monitoring Type | Professional or Self-Monitored | Professional or Self-Monitored |
| Installation Type | DIY | Professional or DIY |
| Trial Period | 60 days | 60 days |
| Coverage | Nationwide | Nationwide |
| 24/7 Monitoring | Yes | Yes |
| Warranty | 3 years | One year warranty for the Basic plan, lifetime warranty for Plus monitoring plan |
| Equipment | 11 pieces | 10 pieces |
| Integrations | Extensive | Limited |
About SimpliSafe
SimpliSafe is a family safety company that provides professional monitoring services and well-designed equipment. The device has a wide range of options, including smart home functions such as additional sensors and smart locks, cameras and doorbells. According to the monitoring plan, its 24 / 7 professional monitoring team can call for help for fire, invasion, medical events, etc. SimpliSafe's monitoring service is reasonably priced and runs once a month. There is no contract, but you must purchase the equipment in advance.
How does SimpliSafe work?
The ordering and installation process of SimpliSafe is very similar to that of ring, including online ordering and self installation, but you can also pay professional technicians to install the system for you. You can control some functions through the SimpliSafe application, but you need to get an interaction plan for the full mobile function.
SimpliSafe Pros and Cons
SimpliSafe Pros
Doorbell camera option
Intelligent door lock model
Intelligent lock integration
SimpliSafe Cons
There is no dedicated outdoor camera
A more basic keyboard than cove
SimpliSafe Equipment
SimpliSafe Base Station
Key Fob
Panic Button
Temperature Sensor
HD Security Camera
Motion Sensor
Glass Break Sensor
Entry Sensor
Smoke Detector
Keypad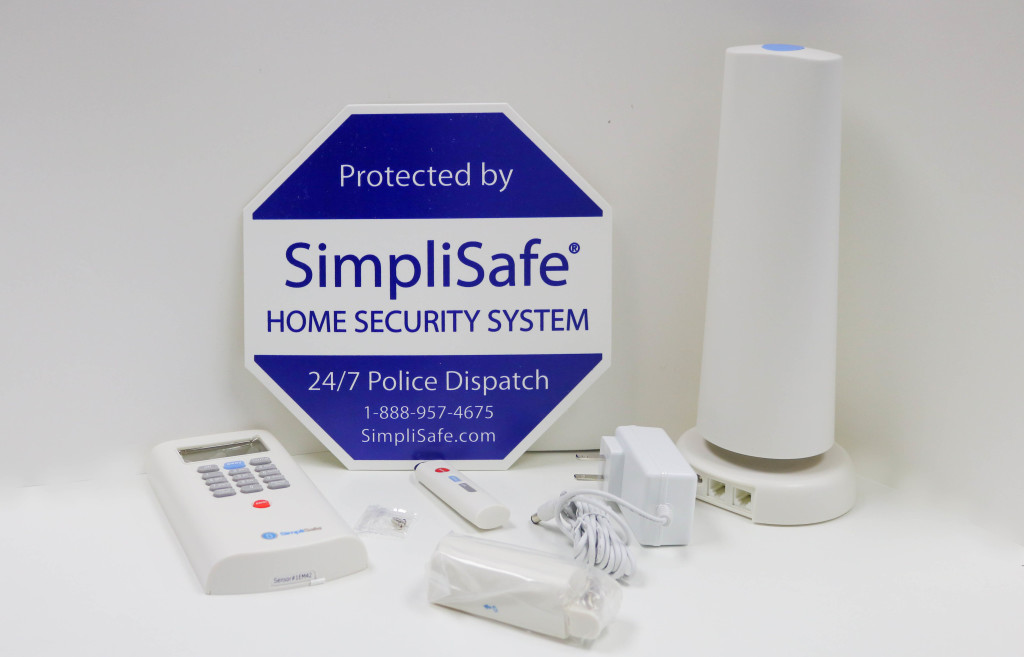 SimpliSafe has an amazing range of basic devices for you to use with the SimpliSafe control panel. All of the following devices are wireless and battery powered. SimpliSafe provides door and window, motion, tilt and glass breakage sensors. These sensors are the entry points of sensors, and the name SimpliSafe explains their functions. SimpliSafe also provides an external alarm that can be placed anywhere around your home. In order to quickly disarm the system, SimpliSafe provides a remote key. Their remote key allows you to arm and disarm the system at the press of a button. SimpliSafe also provides push-button emergency buttons to let your central monitoring system know that you need help immediately when the SimpliSafe system is triggered. SimpliSafe provides water supply/leakage, smoke/temperature and co sensors to protect your home from environmental hazards. These sensors will look for various specified environmental factors. If a hazard is detected, SimpliSafe will give an audible alarm when the system is triggered. All devices provided by SimpliSafe are DIY (do it yourself), but they provide professional installation for a one-time fee.
Installation Process of SimpliSafe
Home automation
If you prefer to purchase the SimpliSafe security system, please remember that since the SimpliSafe security system can only be used for other SimpliSafe branded devices, to what extent can you only expand the SimpliSafe security system. The only home automation device currently provided by SimpliSafe is a smart lock. SimpliSafe intelligent lock consists of two parts; Lock and key keyboard. The lock will be applicable to your existing lock, and the existing key of the current lock will be used with SimpliSafe smart lock. It works by wirelessly connecting to your home WiFi network. You can create custom user codes to unlock and lock SimpliSafe locks without a key. You can also control the SimpliSafe smart lock through the SimpliSafe application.
Video surveillance/camera
SimpliSafe does have two cameras for you to choose from, and they work very well with their system. They provide wireless indoor / outdoor cameras called simpli cameras. The simpli cam is powered by AC power, so you need to make sure there is one nearby. SimpliSafe is super compressed, but despite its size, it can capture amazing HD video. SimpliSafe has night vision technology that allows you to see images when there is no light around. SimpliSafe has a motion sensor that can trigger it to start recording. You can communicate with simpli cam using its two-way audio function. SimpliSafe also offers their video doorbell pro, which is also a wireless camera. SimpliSafe has customizable bells and motion sensors that can send you an instant alarm to let you know that someone is at your door. SimpliSafe has a broad vision, so you don't have to worry that your video doorbell professional missed one thing. It can capture 1080p video, including advanced night vision and two-way audio.
What SimpliSafe customers say?
SimpliSafe customers say that SimpliSafe has competitive prices and is easy to set up and install. They also like the remote monitoring capabilities of the SimpliSafe application. Some customers who chose to get help during installation rather than take the DIY route described the problem of using contractors for SimpliSafe installation.
About Cove
Cove is a family safety company that provides stylish touch screen control panels, cameras, sensors and other devices to improve the safety of your home. It adopts a three element communication process, using telephone, text and on-site operator to contact you in case of emergency. Equipment and monthly monitoring costs are affordable, and the monitoring plan can be cancelled at any time. With Cove plus, the monthly monitoring price is locked, and you can use the rolling points of $5 per month for new devices.
How Does Cove Work?
You can order ring devices and monitoring devices online and ship the hardware home. Cove is easy to install in its own peel and stick adhesive. After activating the device and downloading the ring always home application, you can start controlling the system remotely or via the keyboard.
Cove pros and cons
Cove Pros
Excellent customer service score
Special outdoor camera
Touch screen control panel
Cove Cons
Doorless camera
No smart lock option
Concave equipment
Cove Equipment
Cove Equipment
Cove Touch Alarm Panel
Door Sensor
Motion Detector
Window Sensor
Glass Break Detector
Smoke/CO Detector
Flood Sensor
Medical Button
Indoor Camera
Outdoor Camera
Key Remote
Monitoring and Subscription
Cove Smart provides your family with all the basic sensors you need for comprehensive security. All sensors provided by Cove smart are wireless and battery powered. Cove Smart provides door and window sensors to protect your doors and windows. They have glass breaking sensors that can hear the sound of glass breaking in the area where they are placed. Cove Smart's motion sensors are very good at detecting the motion of an area. They can cover a larger area of your home. Cove Smart provides a remote key that enables and deactivates your system at the touch of a button. To protect your home from environmental hazards, Cove Smart provides smoke, carbon monoxide and flood sensors. Cove's smoke sensor will detect the rise of smoke, carbon dioxide sensor will detect the dangerous level of CO gas, and flood sensor will detect water leakage and water level rise. If these environmental factors are detected, these sensors will give an audible alarm when the system is triggered. All the devices provided by Cove smart are DIY, but Cove does include a step-by-step installation guide for fast and easy installation.
Installation Process of Cove Security
Home automation
Cove smart doesn't have a large number of additional devices to choose from, and they don't list whether their system is compatible with other brands of devices. You need to contact them directly to find out if and which devices are compatible with their system. The only additional equipment they provide is the medical button. Cove acts like an emergency button. Cove is waterproof. You can customize its alarm sound. It has a flashing LED light. If the "medical" button is pressed, the emergency service personnel will know that they need help immediately. Such devices may be more basic than additional devices.
Cove surveillance/camera
Cove smart currently only provides one security camera, which is produced by Yi Jianlian, a famous security camera brand. Cove Smart provides Yi indoor cameras. This camera is wireless, which means it can connect to your WiFi to work. It is powered by AC power, so make sure there is one nearby. The Yi indoor camera can shoot 1080p video, and Cove has a 111 degree wide-angle lens. Cove has advanced motion sensing technology, which will trigger the indoor camera to start recording. You can use its two-way audio function to communicate with anyone around the Yi indoor camera. It has night vision technology and advanced zoom function, which can really enlarge the recorded and live video to obtain more fine details. The Yi indoor camera has a micro SD slot that allows you to use a micro SD card to store recorded video clips.
What Cove customers say?
Cove customer reviews describe a simple installation process, a good support team and customer service. Cove's comments on consumer raffairs were mixed. Some customers described cancellations, false alarms and other equipment problems.
What Do Cove and SimpliSafe Have in Common?
SimpliSafe and Cove are based on the premise that homeowners and tenants can get the peace of mind provided by the family safety system without paying too high fees or signing lengthy contracts. In addition, both SimpliSafe and Cove provide the following services:
Sell products that are cheap and easy to install
Equipped with security cameras, but neither is included in its basic software package
Get a better BBB a + rating
Although you can get SimpliSafe without a subscription, you will miss some key features. For example, the company's top-level program provides exclusive access to SimpliSafe mobile applications. SimpliSafe is an important part of the security system, allowing homeowners to remotely view their live video camera or change settings.
Cove also offers two options. The basic subscription provides 24 / 7 real-time monitoring and SMS reminder for homeowners, and provides dedicated communication lines to cove support through the touch screen. At the same time, Cove plus plans to add functions such as lifetime warranty and smartphone control. Cove's basic plan costs 50 cents a day, while the plus plan costs about 83 cents a day, about $24.90 a month.
Remember that if you do not get subscriptions from SimpliSafe and cove, you will be responsible for notifying the authorities yourself.
FAQs
What Alarm System is Better Than SimpliSafe?
If budget is your biggest concern and you'd prefer the self-monitoring option, or if you want an outdoor security camera, consider investing in Ring is the better choice. SimpliSafe does offer an "outdoor kit" for its indoor camera, but customers say it doesn't actually protect the power port or lens.
Can Cove Security Be Hacked?
Is it possible to hack Cove home security systems if you're thinking about using Cove? The simple answer is, not easily. No matter how much security you have in place, anything can be hacked, but Cove has protections to keep your data safe from attackers.
Is Cove a Good Monitoring System?
Cove is a good choice for those looking for a budget-priced system and professional monitoring.
Conclusion
SimpliSafe and Cove are affordable DIY home safety systems that provide reliable home monitoring systems. In terms of customization, both SimpliSafe and Cove allow you to build systems according to your needs and preferences. SimpliSafe and Cove also have similar subscription prices.
However, Cove is a little cheaper, especially if you have a chance to get a discount. In these activities, you can buy Sensors and cameras at half the normal price. Nevertheless, SimpliSafe has existed for a longer time, giving them a leading position in the experience. If you don't have time to set it up yourself, they will also provide professional installation.
If the budget is your most concern, you prefer the option of self-monitoring, or if you want an outdoor safety camera, consider investing in a ring as a better choice. SimpliSafe does provide an "outdoor kit" for its indoor cameras, but customers say it does not actually protect the power port or lens. Cove's offer of unlimited cloud storage for $3.00 is also hard to beat. SimpliSafe has a more powerful software package and may also be the first choice for larger homes and apartments.
Read More: Beats Solo Vs Studio